Welcome to Riverside University Health System Anesthesia Residency Program Web Page. The Anesthesia Residency Program is designed, innovatively, to foster good patient care and growth of the resident physician as a provider and as a wholesome member of the anesthesia community.
Mission
The mission of the Anesthesiology Residency Program is to improve the health and well-being of our patients and communities through our dedication to exceptional and compassionate care, education, promotion of scholarly activity, and the development of physician leaders. This compliments the Riverside University Health System's mission.
The residency program has been accredited by the American Osteopathic Association (AOA) since April 2000, and was granted ACGME initial accreditation effective July 2015. Our residency program offers 7 categorical positions per year. RUHS is a state of the art facility servicing the greater Riverside area and as a result we are a very busy facility which allows for an inordinate amount of learning and teaching opportunities. Not only do our residents obtain experience in general anesthesia, but because we are a level 1 trauma center, they also learn to manage trauma patients. Our diverse population enables our providers to experience obstetrical anesthesia, including high risk obstetrics, general surgery, including thoracic and vascular anesthesia, orthopedic surgery, including spine, pediatric anesthesia, plastic surgery, neurosurgery, and urology. Our newly established PACU rotation allows for a combination of regional anesthesia and PACU experience. Our affiliation with Cedar-Sinai Medical Center in Los Angeles provides unparalleled cardiothoracic anesthesia experience and our affiliation with Children's Hospital Los Angeles affords the opportunity for concentrated practice in pediatric anesthesia.
Because of the opportunities offered at RUHS, our program has gained immense popularity. The clinical experience has been merged with a consummate didactic program that allows for comprehensive education in anesthesia. Due to our commitment to providing the best care, we have adopted a model of teaching that incorporates tools to assess progressive learning through specific core competencies. This ensures the resident is established as a well-rounded, caring, compassionate physician with an objective to provide good quality care and to learn effective physician-patient interaction.
We at RUHS pride ourselves for our commitment to achieving excellence in clinical care and education. Our program is constantly evolving with a goal of continued enhancement of our education program. Our dedicated staff encourage, participate, and learn along with the residents and are an integral part of the experience here.
I invite and encourage you to browse our website. Please feel free to contact me should any question you may have be unanswered.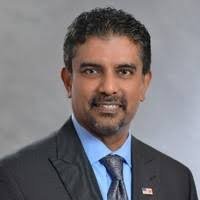 Ashish Sinha, MD, PhD, DABA, MBA, FASA
 Program Director, Anesthesia Residency Training Program