Riverside University Health System - Medical Center is located within the City of Moreno Valley, which is centrally located and accessible for all areas of Riverside County and Southern California.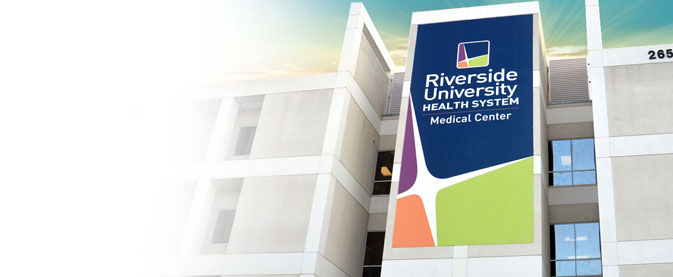 Although the institution is well over 100 years old, a modern, seismically compliant Medical Center opened in March 1998. The Medical Center is a 520,000 square foot, state-of-the-art, tertiary care, Level I trauma facility, licensed for a total of 439 beds. There are 362 licensed beds in the main acute-care hospital, and 77 licensed beds in a separate psychiatric facility. 12 outlying Community Health Center clinics provide services for our diverse patient population and act as a networked referral base for the Medical Center. RUHS has 12 operating rooms, a helipad located directly adjacent to the Trauma Center, and state-of-the-art diagnostic imaging services. The Emergency Department is currently undergoing renovation and expansion. There are adult, pediatric and neonatal intensive care units, a birthing center and complete pulmonary services, including hyperbaric oxygen treatments. All patient rooms are single occupancy. The award-winning Riverside University Health System - Medical Center is well designed and equipped to provide the latest in health care through the 21st century and beyond.
In May of 2020, the newly completed Medical Surgical Center (MSC) opened with expanded imaging services including a 3T MRI, PET/CT and molecular breast imaging capabilities. The MSC boasts 8 additional outpatient operating suites, expanded clinic space, pharmacy, laboratory, diagnostic services and a newly designed physical therapy and rehabilitation area.
Background
A teaching hospital accredited by The Joint Commission, RUHS-MC, in addition to its residency and fellowship programs, offers training programs for medical students, nursing students and allied health professionals. Our learners attend the University of California, Riverside School of Medicine, Loma Linda University School of Medicine, Western University of Health Sciences and multiple other academic institutions.

RUHS has the capacity to manage 200,000 patient visits in specialty outpatient clinics. The expanded Emergency Room/Trauma Unit has the capacity to manage over 100,000 patient visits annually. Diagnostic imaging visits exceed 160,000 per year. There are  approximately 3,500 employees and medical staff serving the Medical Center.
More About the Program