GET THE OPIOID FACTS YOU NEED
By recognizing the signs of overdose, knowing how to respond, and acting quickly you can save a life!
While you may have heard about opioids in the news, from classmates, or perhaps at school, there is a lot of information to sort through - Such as the fact that pills bought online or through social media may contain many things, including fentanyl. Utilize the below information to increase your knowledge, take charge of your own health, and possibly save a life.
WHAT ARE OPIOIDS?
Opioids are a group of drugs that includes heroin, fentanyl, and prescription pain relivers.
HEROIN
Heroin is an illegal, highly addictive opioid that is typically injected, but can also be snorted or smoked. It is typically sold as a white or brownish powder, but also sold as "black tar" heroin which is sticky like roofing tar or hard like coal.
PRESCRIPTION OPIOIDS
Prescription opioids or pills are prescribed by doctors to treat really bad pain such as a sports injury, dental work, cancer, and severe chronic pain. When taken as prescribed, they are reasonably safe and can reduce someone's pain for both the short term and long term. But even though they are prescribed by a doctor they can have serious risk and side effects, especially when misused or not taken as prescribed. Common types include oxycodone (OxyContin), hydrocodone (Vicodin), morphine, Percocet, and codeine.
FENTANYL
Fentanyl is an opioid drug that is 50x more powerful than heroin and now is the most common drug involved in drug overdoses. Medically, it is used to treat severe pain and for surgeries. It is now being made illegally, sold on the streets for its "heroin like" effect and often mixed with heroin, cocaine, marijuana, imitation or fake pills, and other drugs – with or without the individual who is taking its knowledge. Even the smallest amount can lead to an overdose, and an amount the size of 10-15 pieces of salt can be deadly.
What's Hiding in Your Pills?
Pills bought online or through social-media don't come with an ingredient list – and many may contain fentanyl, meth, or xylazine. There's been an increase in deadly overdoses due to fake pills containing drugs or chemicals that shouldn't be in them. These pills are made to look just like prescription medications.
What is Meth?
Meth or Methamphetamine, is a highly addictive illegal drug. It is a white, odorless, bitter-tasting powder that easily dissolves in water or alcohol. Most of its ingredients can be found used in products such as batteries, drain cleaner, fertilizer, nail polish remover, and other toxic materials. The drug has serious side effects, such as damage to ones brain and organs.
Recently there has been an increase in meth overdoses. This is due in part to an increase in the potency of meth, but also the presence of meth in fake pills, which may also contain fentanyl.
What is Xylazine?
Xylazine or Tranq is a tranquilizer used by veterinarians not approved for human use that has been linked to a growing number of overdose deaths. It is cheap to make and prolongs the effects of other drugs, so just like fentanyl and meth, it is being mixed into drugs, often without a person's knowledge. Taking it with other drugs like opioids or alcohol increases the risk of overdose. Injecting xylazine can lead to skin ulcers or open wounds in the skin.
HOW TO RECOGNIZE AN OPIOID OVERDOSE
During an overdose, breathing can be dangerously slowed or stopped, causing brain damage or death. You don't have to be a medical professional to identify the signs or help, the important thing is to recognize the signs and act quickly.
Opioid Overdose Signs Include:
Small pupils
Reduced level/loss of consciousness
Slow shallow breathing
Choking or gurgling sounds
Limp body
Pale, blue or cold/clammy skin
Nausea and throwing up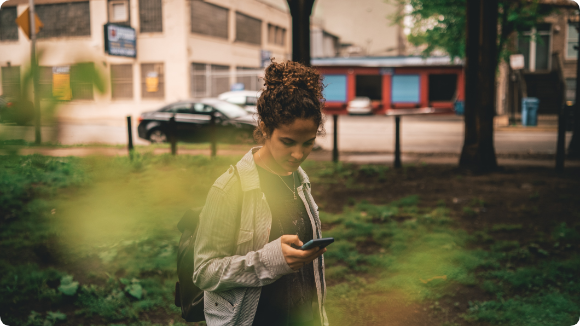 Taking opioids that you buy off the street or from a friend can increase the risk of opioid overdose as there's no certainty of how strong the drug is or what might be mixed in with it!
HOW TO RESPOND TO AN OPIOID OVERDOSE
It is at times difficult to tell whether a person is high or experiencing an overdose. If you aren't positive, it is best to treat it like an overdose.

Call 9-1-1 immediately,
all you have to say is "I think someone may have overdosed" and provide a clear address and/or description of your location

Give Naloxone,
if available

Try to keep the person awake and breathing,
perform rescue breathing if needed

Put the person on their side,
in a recovery position

Stay with them
until the emergency workers arrive
There are also some things that you want to make sure not to do for risk of putting the individual at more harm such as:
Don't hit or try to forcefully wake or move the person - it will only potentially cause further harm.
Don't put the person in a cold bath or shower. This increases the risk of drowning, drowning or going into shock.
Don't try to make the person vomit. This increases the risk of choking or inhaling vomit into their lungs, which can cause a fatal injury.
NALOXONE CAN REVERSE OPIOID OVERDOSE & SAVES LIVES
Anyone can carry naloxone, give it to someone having an overdose, and potentially save a life.
Naloxone is a life-saving drug that when sprayed into the nose or injected, quickly reverses the effects of opioids – including fentanyl, and prescription opioid medications - during an overdose. Not only can Naloxone save a life, but it also lowers the chance of long-term brain damage. It is safe and easy to use, works almost immediately, and is not addictive. Naloxone can not harm someone if they are not overdosing and you can not get in trouble for having or using it.
Wondering how to use Naloxone? Learn how to use it here.
Due to its lifesaving abilities, all people using opioids + family and friends that may encounter someone who uses opioids are recommended to carry it. You can get Naloxone at your local pharmacy without a prescription or from a local organization that has a distribution program, such as the below or visit nextdistro.org/california
GOOD SAMARITAN LAW
Many overdose deaths can be prevented, but people often fear arrest if they call 9-1-1. This law provides protection from arrest, charge, or prosecution for anyone who seeks emergency medical help at the scene of a suspected drug overdose
BY RECOGNIZING THE SIGNS OF OVERDOSE, KNOWING HOW TO RESPOND, AND ACTING QUICKLY YOU CAN SAVE A LIFE.
What if I or a Friend Isn't Ready to Stop Using Drugs? How Do You Use Them Safely?
Using drugs will always come with a risk. If you or a friend are not ready to stop, there are a variety of things that you can do to make it "safer".
Don't use alone. Always make sure someone else is around.
Know the signs of overdose, how to respond, and how to use Naloxone.
Carry Naloxone with you if you or others around you are using drugs.
Don't mix your drugs. Mixing things like opioids or pills, with alcohol, cocaine, or other pills can be dangerous.
Eat before you use, and drink water, juice or other liquids.
DOWNLOAD, SNAP A PHOTO AND SHARE
The pocket-card below has quick info and resources to help you, friends, family or anyone in your community. Download here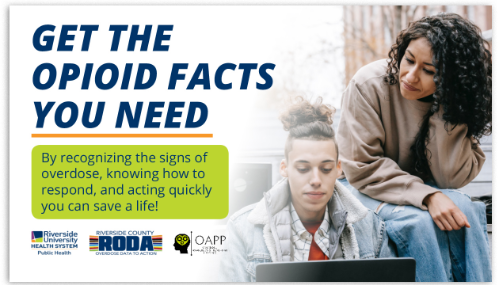 WARM, HELP, & HOT LINES
The best thing you can do if you are looking for help for yourself or are concerned about someone else in your life is reach out for help.
If you believe an individual may have overdosed, they show changes in consciousness, are having difficulty breathing or displaying signs of a heart attack call 9-1-1 immediately.
RIVERSIDE COUNTY CARES LINE
800-499-3008
If you need someone to talk to, are concerned about someone, need help finding a local resource, or assistance navigating treatment options contact the CARES Line 24/7 for free and confidential local help. Assistance available in English and Spanish.
SAMHSA'S NATIONAL HELPLINE
1-800-622-HELP (4357)
Free, confidential, 24/7 365-day-a-year treatment referral and informational services (in English and Spanish) for individuals and families facing mental and/or substance use disorders.
CRISIS TEXT LINE
Crisis Text Line Text "HOME" to 741741
Connect with a crisis counselor 24/7 to receive high quality text-based mental health support and crisis intervention at your fingertips.
NATIONAL SUICIDE PREVENTION LIFELINE
800-273-8255
The National Suicide Prevention Lifeline provides 24/7 free support for individuals in distress, as well as prevention, crisis resources, and best practices for professionals.
TRANS LIFELINE
877-565-8860
A 24/7 lifeline run by and for trans people, providing direct emotional and financial support to trans people in crisis.
THE TREVOR LIFELINE
866-488-7386
The Trevor Project is the leading national organization providing 24/7 crisis intervention and suicide prevention services to lesbian, gay, bisexual, transgender and questioning (LGBTQ) young people ages 13-24.
ADDITIONAL RESOURCES
Here are some helpful places to go for more information
National Institute on Drug Abuse (NIDA)
The NIDA website, drugabuse.gov, has information on a variety of drugs and related topics.
The National Institute on Alcohol Abuse and Alcoholism (NIAAA)
The NIAAA website, niaaa.nih.gov, contains the latest research, news, and other resources related to alcohol.
The National Institute of Mental Health (NIMH)
To learn more about mental health conditions like depression or schizophrenia, visit the NIMH website, nimh.nih.gov, and read the Director's Blog on various topics, including suicide prevention, bipolar and borderline personality disorders, coping with traumatic events, and more.
Substance Abuse and Mental Health Services Administration (SAMHSA)
You can find treatment programs through findtreatment.samhsa.gov.
This information is brought to you by the Riverside County Overdose Data to Action Program. For questions, comments, or more information contact RODA@ruhealth.org