Billing & Insurance Customer Service
for people with insurance:
(Private, MISP, MediCare and Medi-Cal)
(951) 486-5360
Billing & Insurance Customer Service
for self-pay:
(Cash, Credit Card, or Check)
(888) 399-6164
The following health insurance plans are accepted by RUHS Medical Center.
Health Insurance Accepted:
​MediCare (with secondary health plans also)
Medi-Cal
Exclusive Care EPO
Managed Care Medi-Cal Programs

Molina
Inland Empire Health Plan (IEHP)
If you have a life-threatening medical emergency, go to the nearest emergency room and notify your health insurance provider within 24 hours. In case of a non life-threatening medical emergency, first contact your Primary Care Provider (PCP) for medical advice. ​
Billing & Insurance ​Frequently Asked Questions
How does RUHS Medial Center obtain my insurance billing information?

When you make an appointment at RUHS Medical Center, you will be registered at as a RUHS Medical Center patient. We collect your insurance information at the time you make your appointment, and we verify your insurance information on the day of your appointment at patient registration.

Do I need to bring payment to my appointment?

When you arrive to RUHS Medical Center for an appointment or for a hospital stay, we ask that you provide a valid ID and your insurance card/s. You are expected to pay any deductibles, copayment or share of cost you may have at the time you arrive for your appointment.(These are fees your insurance may require you pay to the Medical Center at the time you receive medical services. Contact your health insurance provider to find out if you have a copay.)

My health insurance plan has changed. What do I do?

To update your insurance information, please contact our Customer Service Representatives at (951) 486-5360. It is important that when your health insurance changes, you notify us immediately. If you do not notify us right away, you may receive denials from insurance, leaving you responsible for payment.

I saw my doctor today. When will I receive a bill?

You can expect to receive a billing statement from RUHS Medical Center within one month of your appointment. The bill you receive from your doctor will come separately.

Why am I receiving multiple billing statements from RUHS Medical Center?

You will receive a separate billing statement for each hospital stay and for each outpatient (clinic) visit. A new "account number" will be issued for each visit. See our sample billing statement to understand each part of an RUHS Medical Center bill. (Note: Recurring visits do not have new account numbers; see more on recurring visits below.)

What is included in my inpatient (hospital) billing statement?

Your RUHS Medical Center inpatient billing statement lists the Medical Center services you received during your stay, such as facility, use of equipment, supplies,​ and medications. The inpatient billing statement does not include any physician fees (i.e. anesthesiologist, radiologist, pathologist professional fee bills).

What is included in my outpatient (clinic) billing statement?

Your RUHS Medical Center outpatient billing statement lists the Medical Center services you received, such as facility, use of equipment, supplies, and medications. The outpatient billing statement does not include physicians' professional fees.

I am receiving weekly/monthly treatment for a medical condition. What is included in my outpatient recurring billing statement?

Your monthly recurring outpatient billing statement lists the Medical Center services you received on each visit. Recurring outpatient billing statements retain the same patient account number throughout your course treatment. The recurring outpatient billing statement does not include any physician's professional fees. The following medical conditions are usually billed on a recurring outpatient billing statement:

Physical Therapy
Infusion Therapy

Why am I receiving bills from physicians I did not see?

There are physicians that may be involved in your care whom you do not see. For example, physicians who interpret your laboratory and radiology tests do not schedule a patient appointment with you. You also may have bills from an anesthesiologist or assistant surgeon if you were at RUHS Medical Center for a surgical procedure. These physicians are required to submit separate professional fee billing statements to you and your insurance company. If you have questions about these statements, please call the telephone number listed on each individual statement.

Does my health insurance allow me to see any RUHS Medical Center physician?

All physicians practicing at RUHS Medical Center are private practice physicians and contract separately with insurance companies. It's important for you to contact your health insurance carrier regarding insurance coverage questions.

Why am I receiving a bill when I expected my insurance to pay for everything?

Many insurance companies have a deductible, co-payment, or out-of-pocket patient liability. Please contact your insurance company or review your benefits booklet for more information on your individual insurance plan if your personal liability balance is larger than you expected.

The charges on my billing statement are confusing. How can I get an explanation for these charges?

Please contact our Customer Service Representatives at (951) 486-5360 if you have private health insurance or are covered through Medi-Cal or MediCare. For self-pay patients, please call (888) 399-6164. Our representative will assist you with your questions and concerns between 8am to 4:30pm, Monday through Friday.

How can I apply for financial assistance?

RUHS Medical Center eligibility staff will assist with applications for financial assistance. There are three programs offered:

I am unhappy with some aspect of my treatment or my charges. Whom can I talk to about my medical care?

Please contact our Hospital Patient Advocate with any patient care or service issues at (951) 486-4313. Please contact our Customer Service Representatives at (951) 486-5360 with questions about your RUHS Medical Center bills.
Price Transparency and Chargemaster 
RUHS Medical Center is committed to being transparent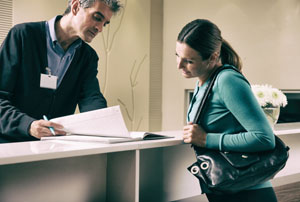 about its charges. Your own charges and out-of-pocket expenses will depend on the actual services received, the terms of your insurance coverage, and your eligibility for financial assistance. Patients should call (951) 486-4255 for assistance on determining an accurate estimate for patient care services based on their individual circumstances.
This list of charges in the file below reflects the standard charges, known as the Chargemaster, for inpatient and outpatient services provided at Riverside University Health System Medical Center. The hospital's charges are the same for all patients, but the patient's financial responsibility for services provided may vary, depending upon payment plans negotiated with individual health insurers as well as reimbursement schedules set forth by public payers such as Medicare and Medi-Cal. These charges do not include items or services that may be billed separately for physician services, lab, diagnostic services, etc. 
Download Chargemaster (charges as of 12/31/2020)
(If you're experiencing problems viewing this document, try using the following browsers: Chrome, IE, Edge. If using FireFox be sure to view this page for support information on browser settings.)
For questions, please call (951) 486-5098. 
Pricing Information and Estimates
We understand that it can be confusing to estimate treatment costs before choosing care. Our financial counselors are here to help you understand your costs and options for affording an upcoming treatment or procedure.
You can find the average for our standard charges for items and services by visiting our Hospital Pricing Information page. This page provides a comprehensive list generally referred to as the hospital's "chargemaster." There you will also find a spreadsheet that includes the hospital's average charges for each diagnosis-related group (DRG).
Receive a personalized estimate for your medical treatment by visiting the Guest Estimate page